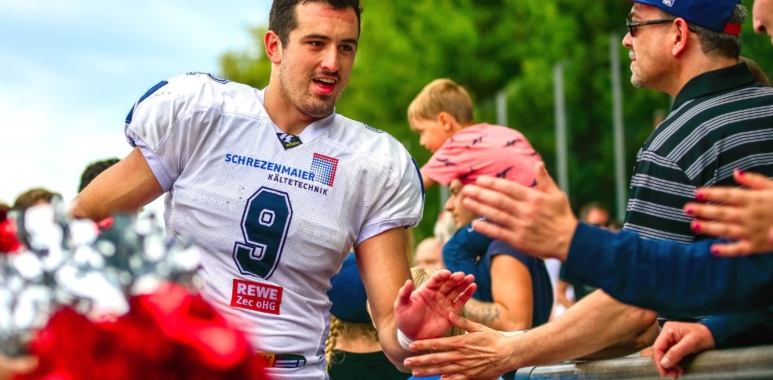 In den letzten Tagen führte die Southwest Times aus den USA ein Interview mit unserem Spieler Tyler Clifton über seine Zeit in Oberschwaben. Leider sind deutsche User auf der Webseite der Zeitung nicht erlaubt. Netter Weise haben sie uns aber den Artikel zur Verfügung gestellt.
---
Tyler Clifton is having fun playing football for the Razorbacks. Not the University of Arkansas Razorbacks, however.
Instead, Clifton — a former standout at Sallisaw, Oklahoma — is playing overseas in Germany for the Ravensburg Razorbacks, a team that plays American football in the German Football League 2, which is the second tier of American football played in Germany, just below the German Football League.
The irony of someone from the River Valley ending up in a different continent playing on a team called the Razorbacks isn't lost on Clifton. "I think it's pretty unique," Clifton said of being a Razorback in Germany. "It's just really ironic that I would travel halfway across the world to keep playing football and end up playing for a team called the Razorbacks."
Clifton, who played collegiately at Northeastern Oklahoma A&M and Hendrix College, plays defensive end and linebacker and also is involved in all facets of special teams for the Razorbacks. Through the team's first seven games, Clifton has registered 25 tackles, five sacks, seven tackles for loss and two pass breakups. He has also forced two fumbles while recovering another.
It isn't the first time Clifton has been in Europe. He went there two years ago to help run a football camp, which eventually sparked his desire of playing in Europe on the professional level. "I first heard and became interested in playing overseas two summers ago when I traveled to the Czech Republic to teach a football camp," Clifton said. "I went with two of my coaches from Hendrix College and they knew a lot about playing overseas, which drew my interest about playing in Europe after I graduated college."
Even though it is American football on the professional level, Clifton said that in the GFL 2, the game is geared more toward the college style. "Rules over here are the same as college rules back in the States," he said. "The way football is played is slightly different due to the popularity of the sport. "Soccer is obviously the favorite sport here, so kids don't grow up playing football like we do in the States, which can lead to later development of skills."
But Clifton went on to mention the Razorbacks have drawn fairly good crowds for their games, so there is some definite interest. "I would say our fan support is top 10 in all of Europe according to fan attendance," he said. "We average about 1,500 people every home game, which makes for a great crowd and atmosphere to play in." Clifton also isn't the only American player on the Razorback roster. "There are a handful of Americans on my team; there are only a handful due to the rules of the GFL," Clifton said. "Only two Americans can be on the field at the same time and the rest are either from Germany or Europe. "I cannot express how welcoming and friendly my teammates from Germany have been. They have made my experience in Germany awesome to say the least."
Likewise, Clifton's coaches are also a combination of Americans and Europeans. "Our coaching staff is mixed," Clifton said. "Our OC (offensive coordinator) and head coach are American and coached college and high school football in the States for most of their lives." In the GFL 2, the Razorbacks are one of 16 teams, all from Germany, and the team plays in the South Division. Clifton said the team plays 14 games altogether, meaning they play each team in their division twice.
The Razorbacks currently lead the South Division with a 7-0 record. They have scored at least 40 points in six of their wins. "In my opinion, our league is one of the top three leagues in all of Europe," Clifton said. "Our season will run until September. … If we win the GFL 2 South, then we would qualify for a playoff game against the worst team out of the GFL 1 South to have a chance to jump to the first league in Germany."
Clifton said his best game thus far was the Razorbacks' second game of the season. He had two sacks, four tackles, one tackle for loss and a caused fumble in their 55-28 win against the Albershausen Crusaders.
Naturally, by playing overseas in another continent, Clifton did experience the inevitable culture shock. "Culture is different for sure," Clifton said. "For starters, what kind of food they eat is different. Breakfast in Germany doesn't usually consist of biscuits and gravy, it consists of some type of bread, a sauce and some sort of sliced meat. "There's not very many big things that shocked me, it was more of the little things. Little things like how everything shuts down at 10 p.m. Grocery stores are also closed on Sundays."
Being overseas has also given Clifton a chance to further explore his new surroundings. "I've been to some bigger German cities, and have been to some places in the Alps in Austria," he said. "I've been to France. "What I've liked about Europe so far would be the history of everything and the new food. There is a lot of old history in Germany and Europe altogether."
Clifton added his family was recently able to come to Germany to watch him in action. "They loved it," he said. "My parents (Billy and Carla) and sister (Misty Clifton) just came this past week and really enjoyed their time here. I'm really glad they could come and support me." As far as Clifton's plans beyond this season, he said he is unsure of whether he will return to Germany or not. But regardless of his future, Clifton is undoubtedly enjoying his time in Ravensburg.
"I'm not really sure what my offseason plans are just yet," Clifton said. "I would love to play another year in Europe if given the opportunity, especially for Ravensburg.
"It has been nothing but great here."
Quelle: swtimes.com
Fotos: Florian Wolf
(das Nutzungsrecht für die Bilder kann käuflich erworben werden, eine anderweitige Nutzung ist nicht gestattet)